You will be truly free (John 8:36)
By: Amanda Idleman
Today's Bible Verse: "So if the Son sets you free, you will be truly free." – John 8:36
Jesus came to Earth so that we could live as free people.
The Bible tells us that God offers us freedom from sin, death, fear, grief, relationship breakdown, and He also offers healing to our bodies.
It is truly impossible to fully comprehend the extent of God's grace to us.
That's not to say that loss and suffering aren't something we endure as Christians, but it does mean that our pain is never wasted. When we invite God into our story, he turns the scripts of our lives upside down. It redeems moments that seemed to have no meaning, no purpose, and we can look back and see threads of hope woven into those dark spaces.
God illuminates our despair and uses our weakness to witness his abundant grace when we give our lives to him.
God is with us in every season of our lives, and even in death he promises a better future without pain or suffering in paradise. We access an unreasonable sense of hope when Jesus is part of our lives. We can live with confidence that God is working every part of our life for our good (Romans 8:28).
What is it like to walk in the freedom that God promises us?
1. Through his wounds we are freed from the curse of sin and death.
1 Peter 2:24 says, "He himself bore our sins in his body on a tree, that we might die to sin and live for righteousness. By his wounds you were healed.
Jesus died on the cross in our place. Our perfect God cannot relate to a sinful humanity. This is why in the Old Testament, God required rituals and sacrifices from his people. But God knew that rituals were insufficient and hatched an incredible plan to forsake his Son so that we could be branded righteous and have full access to the kingdom of God.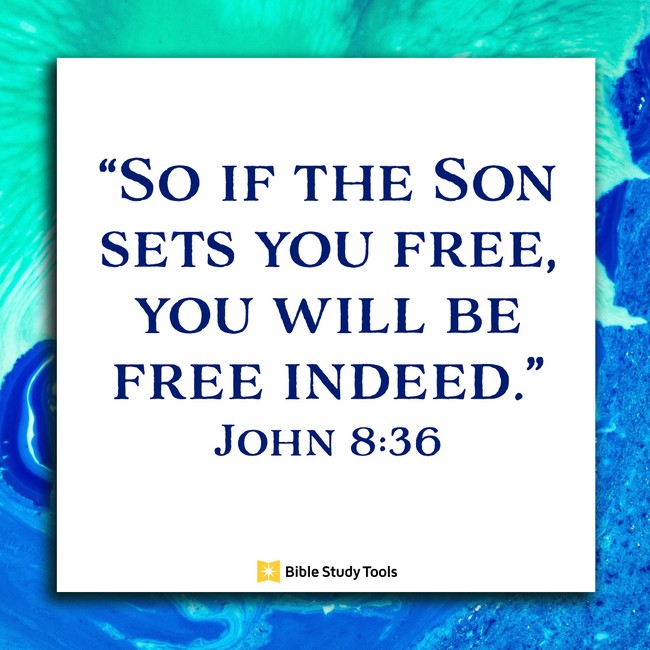 On the cross, Jesus carried the weight of mankind's sin on his body. Through his wounds we are freed from the curse of sin and death! The Gospel invites us into the family of God and promises a future beyond the brokenness that binds this world. God's sacrifice of his son gives us the hope of eternity spent with him in Heaven.
2. It frees us from emotional breakdown.
Psalm 147:3 says, "He heals the brokenhearted and binds up their wounds. »
Our brokenness is not limited to our body. Our minds, souls, and hearts can be discouraged by the trials we face in our lives. God cares about our sanity and offers healing power that can put us free discouragement, depression, fear, anxiety, bitterness, anger, addiction, etc.
Her healing sometimes comes through miraculous touch, meditating on the scriptures, praying, being held in Christian counsel, being helped by a doctor, and even all of the above.
Ultimately, every path to recovery is different. The Spirit of God at work in our lives is unpredictable. He leads us all on different journeys. One thing is certain, God desires that we find emotional freedom through his Spirit at work in our lives.
3. Prayers of faith can bring physical freedom.
James 5:15 says, "And the prayer of faith will save the sick, and the Lord will raise him up." And if he has committed sins, he will be forgiven.
God partners with our faith to physically free us from the alignments that plague our lives. When we are faced with sickness, physical pain, ailments and loss, God promises to hear our prayers and help us through these difficult seasons. 1 John 5:14 says, "And this is the confidence we have in him, that if we ask anything according to his will, he will hear us." The ears of God are open to the cries of his people.
Jesus came to earth and fully experienced what it is to be human. He knows what it is to endure physical suffering and pain. He desires to bring healing, comfort and peace when we endure suffering of all kinds. He never leaves us alone in our times of pain (Isaiah 41:10).
God wants us to know Him, to find freedom in our lives, and then to take the goodness He has given us and use it to make a difference in this world for His glory. We are freed to share His love with this world through our lives. It is a beautiful cycle of holy restoration that is evidence of God's amazing grace at work in our world.
---
Amanda Idleman is a writer whose passion is to encourage others to live happily. She writes devotions for My Daily Bible Verse Devotional and Podcast, Crosswalk Couples Devotional, the Daily Devotional App, she has published work with Her View from Home, on the MOPS blog, and is a regular contributor to Crosswalk.com. You can read more about Amanda on her Facebook page or follow her on instagram.
Want more of your daily Bible verse? We also have a podcast! This podcast contains different verses from the written devotional you just read, but carries the same commitment to looking more closely at scripture each day. You can find out more by clicking the link below!