BIBLE VERSE OF THE DAY: "He will cover you with his feathers; you will take refuge under his wings. His loyalty will be a protective shield. Psalms 91:4
When trouble comes
By Katie Westenberg
I have always loved the unique image that this verse conjures up. I think of that mighty bird with its expansive wings folded and puffed up in a cocoon of warmth and security. For me. Protective and fierce, yet gentle and attentive; it is exactly the refuge that I desire.
But I rarely consider what might be beyond this surrounding environment. The very nature of the word refuge suggest to be safe of something and Psalm 91 doesn't overlook what it might be.
From the trap. Deadly and epidemic disease. Terrors of the night. Arrows that fly by day. Destruction. Plagues that stalk and ravage, at night and throughout the day. The images of words here are just as vivid as the nest of feathers I've just been wrapped in. It's easy for me to stop at verse four and look away from that part. But the hope we need is as much here as it is at the shelter.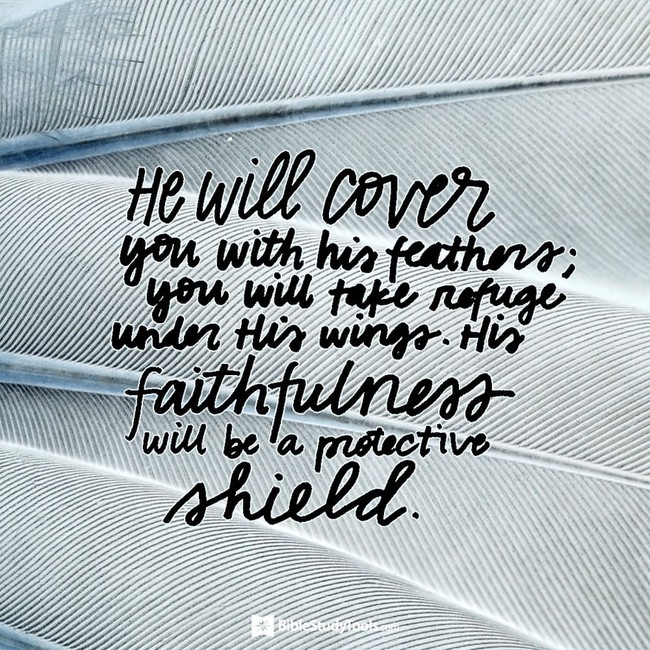 That's what he protects us of. That's what he protects us through. That's what he protects us amid. Verse 15 tells us that he will be with us in trouble. He will deliver us.
Often when problems arise, we ask God why. Why do violent crimes happen to innocent people? Why do the faithful struggle with finances, marriages, children, hope. Under his wing, we like to think that the dangers, all we fear, will cease around us. But His word never promises that. He promises us safety, himself, in and amidst it all.
This psalm opens with a firm and fervent declaration. "He who lives under the protection of the Most High, dwells in the shadow of the Almighty. I will speak of the Lord, who is my refuge and my fortress, my God in whom I trust…" (Psalm 91: 1-2)
In trouble or in peace, the psalmist makes a bold and stubborn statement. When we make the Lord our home (v. 9), His shelter through horrible difficulties is our hope. He is our hope.
May we not confuse the two. Trouble will come, but so will those who have set their hearts on Christ. He will put His angels in charge of you and will respond when we call Him. We have never been promised a life without difficulties, a life without very real terrors and dangers, but we are promised his presence with us, the safety of his refuge around us.
We need not fear trouble, nor despair at the horrors around us when we place our hearts firmly in hope for His shelter, deliverance, despite everything.
---
Katie Westenberg is a wife, mother, and writer who is passionate about encouraging women to fear God and live courageously. Her daily courage involves life in the Pacific Northwest countryside with her husband and their four children. She also enjoys travelling, reading and all adventures that include friends and family. You can find her on I Choose Brave as well as on Facebook and Instagram.
Want more of your daily Bible verse? We also have a podcast! This podcast contains different verses from the written devotional you just read, but carries the same commitment to looking more closely at scripture each day. You can find out more by clicking the link below!