The Key to Fighting Temptation
By: Betsy St. Amant Haddox

Arrived there, he said to them: "Pray so that you do not enter into temptation. – Luke 22:40 (ESV)
No Christian is immune to temptation. Remember, temptation itself is not a sin, as Jesus was tempted (Matthew 4). On the contrary, the sin lies in whether we give in to temptation. Do you look away when tempted by the opportunity to indulge in lust? Are you trying to take deep breaths and curb your rising anger instead of going wild? Do you make the right decision when you have the option to lie, cheat or steal and get away with it?
Jesus clearly tells us how to fight temptation.
The night Christ was arrested, he first went to the Mount of Olives to pray. Luke 22:39 (ESV) And he went out and went, according to his custom, to the Mount of Olives, and the disciples followed him. Something that strikes me about this scripture is the mention of "as was his custom" – meaning that withdrawing to pray was a habit or routine of Christ. It was not foreign to Him, and it should not be to us. This is the key to overtaking.
Prayer is so important in fighting temptation that Jesus told the disciples to pray it twice on the same night. Just a few verses down, He repeats His command. Luke 22:45-46 And when he arose from prayer, he came to the disciples and found them sleeping with sorrow, and he said to them: "Why do you sleep? Arise and pray that you will not enter into temptation.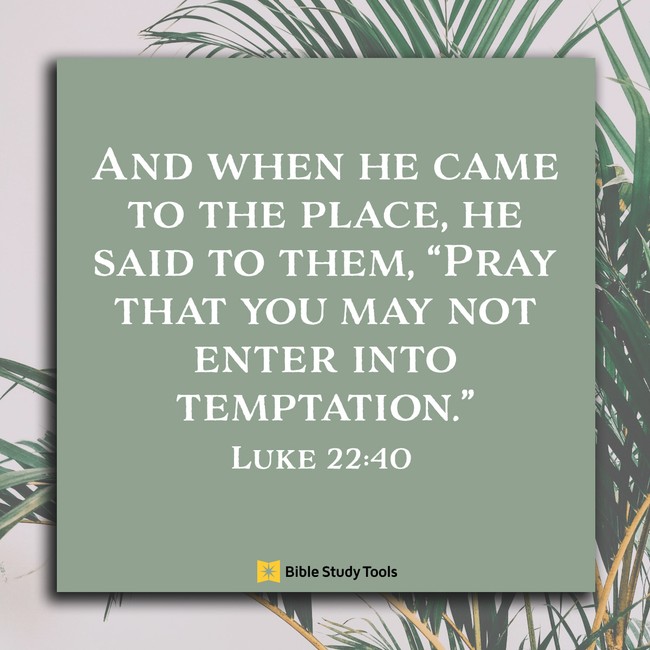 The disciples struggled with this discipline just as we do. It does not come naturally to us to withdraw and pray. Our minds wander at a mile a minute, and before we know it, we're planning our shopping list, thinking about tomorrow's schedule, or remembering something funny we saw earlier in the day. on social networks. Or, most likely, we doze just like the disciples.
I believe that one of the reasons why it is so difficult for us to imitate Christ in this way is precisely because of its importance. Sure the enemy will come against us and cause all kinds of distractions and interruptions when we try. Worse still, once we sin in some way, we instinctively feel the need to withdraw from God and hide (Genesis 3:8) rather than draw closer to the Father. We tend to pray less, and the less we pray, the less we feel like doing it. It's a vicious circle.
As Christians, if we are to hope to overcome temptation in our lives, we must listen to the commandments of Christ and pray. Schedule time to talk with the Father. Make it happen! Have you ever noticed that the more disciplined you are with your daily time in the Word and in prayer, the less likely you are to give in to your "typical sins"? Have you paid attention to the fact that when you skip church for a few weeks or renounce fellowship with the body of Christ, you are more likely to give in to temptation?
This is all intentional. That's how it works. We need each other, and we need Christ to have any victory over temptation. So fight your flesh. Get up and pray. And then look forward to the fruits that this discipline will bear in your life.
---
Betsy St. Amant Haddox is the author of more than fifteen inspirational romance novels and short stories. She resides in northern Louisiana with her hero husband, two completely opposite young daughters, an extensive collection of coffee mugs, and an impressive stash of Pickle chips. Betsy has a bachelor's degree in communications and a deep-rooted passion to see women restored in Christ. When she's not sweating it out at Camp Gladiator or trying to prove unicorns are real, Betsy is usually somewhere near a white chocolate mocha — no whipping. Look for his latest novel with Revell, The Key to Love, to be released October 2020. Visit him at http://www.betsystamant.com.
Want more of your daily Bible verse? We also have a podcast! This podcast contains different verses from the written devotional you just read, but carries the same commitment to looking more closely at scripture each day. You can find out more by clicking the link below!