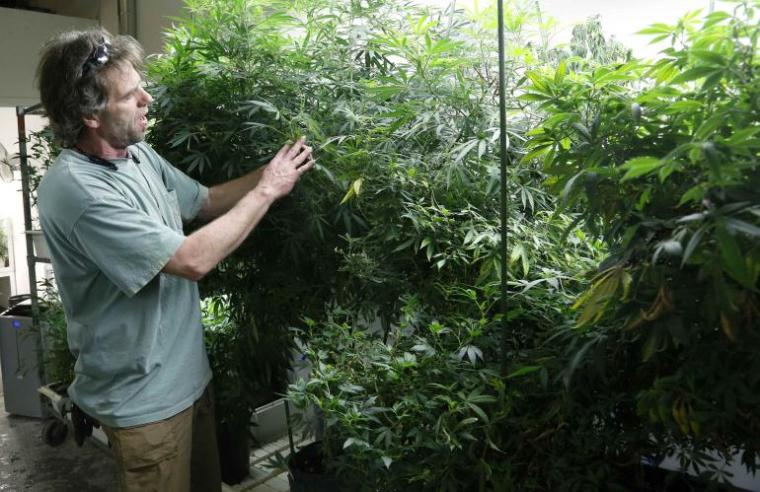 A new weekly Bible study program in suburban Denver mixes marijuana with scriptures to bring together disenfranchised Christians.
The Stoner Jesus Bible Study, which was formed in May 2015 and is based in Centennial, Colorado, acts as a haven for people of all shapes and sizes to come, relax, get high and connect with Jesus every Thursday night without having to worry about being judged by other group members.
Deb Button, a former teacher and mother of two who founded and hosts the Bible study in her home, told the Christian Post on Monday that she had the idea of ​​hosting a "stoner" Bible study when she started wanting to be a part of a faith community after leaving her church a few years ago after feeling she didn't belong.
Although he organized the "Stoner Jesus Bible Study," Button, a "conservative" who twice voted against the legalization of recreational and medical marijuana in Colorado, is relatively new to the use of the pot. .
She explained that she started using cannabis in January 2015, when she started using edibles to help relieve pain from debilitating migraines. Although she once strongly opposed the use of the drug, her views on marijuana were "softened" when she decided that nothing but cannabis could help cure her 21 year old son. severely depressed.
"I had dropped out of church a few years before all of this, I think a lot of it was my son's depression and feeling out of touch with everyone. It just seemed like everyone had the little one. perfect family and no one understood depression and there was something wrong with my son and I felt really lonely, "said Button, who was going through a divorce at the time. "Then when I started using cannabis I again felt very connected to God, like I could feel all the beauty in the world and not see all the negative things. "
Now in its eighth month of existence, the Stoner Jesus Bible Study continues to grow and numbers up to 20 members. Even before the Bibles are open on Thursday, the group typically socializes, smokes or eats marijuana beforehand for about half an hour.
"I would call them my family because we absolutely love each other, not in a strange way but in a very brotherly way, sons and daughters of Christ," Button said.
Button said she believes cannabis helps "activate a spiritual component" of the brain that helps believers better connect with God.
"We don't abuse drugs, it's not that we can't feel God without drugs, it's just that it makes it a little easier because I think it activates a spiritual component in your brain. and it allows you to express yourself emotionally in a way you probably wouldn't if you were completely sober, "Button argued." It's not like we're off the rails, stoned by any means. "
Button believes that being uplifted helps believers better understand the magnitude of what Jesus' death meant to the world.
"When you're sober you're so used to hearing 'Jesus died for your sins …' and there's nothing wrong with that, but when you're high you feel it and it hurts and you love it so much more, "he added. declared. "There is no one on the planet who would do this, be tortured in the name of mankind."
"We are stoned to feel the emotions related to the words of the Bible that we don't feel as strongly when we are not stoned," Button added. "I don't really know what's wrong with that because the results are all focused on Jesus."
The focus of Bible study, Button argues, is not weed but rather welcoming all who come into the group just as Jesus welcomed and loved sinners, addicts and the excluded from society.
"I feel like the people we connect with are people who are like me. For some reason they love God, love the word of Jesus but are not big fans of the church," Button told CP. "I think if we don't let the church have opportunities like this, we're going to miss out on a lot of people who need to know that Jesus loves them. You can tell they just never do. felt that love and acceptance I know there is nothing wrong with it I know his God, he is not weed, he is God and he uses it to connect his people. "
Button admits that the "stoner's" Bible study has caused and will continue to elicit negative reactions from other members of the Denver Christian community.
Last week, a Denver CBS affiliate published an article about Button's Bible study. Button explained that a pastor who participated in the study and who was shown in the CBS video was kicked from his church's worship team and was rejected by other church members on Sunday .
While his 17-year-old son still attends a conservative Christian high school, Button expects to face some sort of criticism from the institution.
With marijuana now legal in four states and Washington DC, and decriminalized in 22 states, marijuana, like many other vices, can be addictive, notes CP guest columnist John Stonestreet. In a recent editorial, Stonestreet expressed concerns about the increase in habitual marijuana use among children and young adults.
While there is no definitive evidence that marijuana use causes cancer or heart disease the way cigarettes do, Dr Sushrut Jangi said in an editorial for the Boston Globe that the THC in marijuana can have a serious effect on the brain.
"While marijuana has not been definitively shown to cause cancer or heart disease, its harmful cognitive and psychological effects will take time to be captured in studies. The underlying biochemistry at work suggests some deeply pathological consequences, "writes Jangi. "The tetrahydrocannabinol (THC) in marijuana attaches to receptors in the brain that subtly modulate systems usually involved in healthy behaviors such as eating, learning and forming relationships. But THC – the potency of which has increased in legal products sold in places like Colorado – imbalances the finely tuned system. "
In light of these findings, Stonestreet wrote, "So if you don't care about eating, learning, remembering things, forming healthy relationships, or having a happy life, turn on! "