YouVersion, the popular Bible app, has released their annual statistical report, in which they review some of their global usage trends.
Around the world, the most engaging bible verse throughout the year is Philippians 4:6: " Do not worry about anything ; instead, pray for everything. Tell God what you need and thank him for everything he has done".
The report also revealed most shared bible verse images in 2019 by language in the global YouVersion community.
In English, the verse was Psalms 103:13: "The Lord is like a father to his children, tender and compassionate to those who fear him".
"WE ARE ENCOURAGED TO SEE MANY PEOPLE TURNING TO THE BIBLE"
Founder of YouVersion Bobby Grünewald, said they "are encouraged to see so many people turning to the Biblee remembering what God has done in their lives and choosing to trust in his faithfulness".
"What we're seeing in the global engagement is exciting for us, because with every verse highlighted, shot completed, or audio listened to, it's a person who is transformed by knowing God more intimately, by spending time in the Bible", he added.
Gruenewald pointed out that "every year when we dig into these numbers, we are overwhelmed with how God uses this app to deliver his message of hope and love to a hurting world."
478 MILLION VERSES SHARED IN 2019
According to the report, "people read and listen to the Bible 30% more this year compared to last year. In total, YouVersion saw 5.6 billion chapters listened to and 35.6 billion chapters read".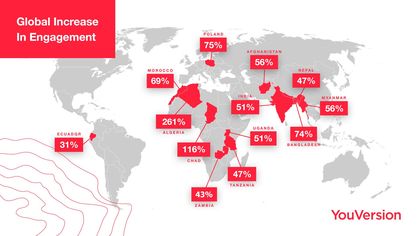 "This year alone, the YouVersion community achieved a record 1.1 billion Bible plans. Many even took the extra step of telling others how the Bible impacted them, resulting in over 478 million verses shared", adds the report.
The application is present in devices from practically all over the world. Some of the countries displaying the greater increase in biblical engagement in 2019 are Poland or India, but especially in places where access to Bibles is very restricted, such as Morocco, Burma or Afghanistan.
"4.7 MILLION PEOPLE WILL HAVE THE BIBLE IN THEIR LANGUAGE FOR THE FIRST TIME"
Currently, the Bible App offers over 2,000 versions of the Bible in over 1,350 languages. However, more than a billion people around the world do not have access to a complete Bible in their native language.
The report highlights that "thanks to the generosity of the YouVersion community, translation projects in the Republic of Congo, Malawi, Benin, Indonesia, Croatia, Madagascar and Serbia, will give more than 4.7 million people the first portion of Scripture ever available in their language".
"Discovering the Bible in your own language is a powerful gift, and we are eternally grateful to our partners who share our dream of creating the Bible for everyone," said Gruenewald.