God wants all my heart
By: Anne Peterson
And he (Jesus) answered, "You shall love the Lord your God with all your heart, and with all your soul, and with all your strength, and with all your mind, and your neighbor as yourself. – Luke 10:27
Remember when you first heard about the Lord? You couldn't read the Bible enough and you could hardly wait to get together with other Christians to share the last thing you learned about God.
You shared the gospel with others, hoping for opportunities. You didn't worry about what anybody might think of you, you worried about whether they knew Jesus or not. There was an urgency, a purpose in the sharing.
In those days, when trials came, you searched the Bible for verses to help you. You wanted to trust God, so you surrendered everything to Him. You were 100%. God had all your heart. But somehow, over time, things changed. And the things that were at the top of your list have come down a bit.
The trials seemed heavier. Or somehow you felt less prepared to face them.
Perhaps a disappointment weighed on you. Maybe it was more than one. And it caught you off guard. After all, hadn't you been close to the Lord? Not so long ago you knew you had access to the throne room of God (Hebrews 4:16).
Maybe one disappointment led to another and you started to feel a little less special to God. You began to listen to the lies whispered by the enemy. Lies like: God doesn't really care about you. If God cared, you wouldn't go through hard times. You began to feel a distance between you and God. And your enthusiasm to get into the Bible has waned. Perhaps the cares of life or desires for other things have set in when you weren't looking, or perhaps you have outgrown the love you had (Mark 4:19).
In the beginning, you had so many answered prayers. It was as if you had a special connection with God. But it was less like that when the trials got harder and harder. And the memories that you had got a little faded.
Sometimes all it takes to rekindle our love is memories. What drew you to God in the first place? Had that changed? Not at all.
God has reached out to you, sending someone to tell you about Jesus. You drank every drop of living water, letting it seep into your soul. You learned that you were a sinner and that God loved you enough to send his own Son to die for you (John 3:16). You learned that no one else would ever love you as God did (John 15:13).
God has forgiven all your sins. He gave you access to heaven by accepting the sacrifice that Jesus made. All you had to do was accept the gift that was offered to you (Ephesians 2:8-9). And that's exactly what you did by catching it with both hands.
When we feel estranged from our Father, that is something that can be fixed. God did not move we did. All we have to do is call on him. When Peter walked on the water, he did well until he took his eyes off Jesus (Matthew 14:28-30). Jesus did not shame Peter for slipping, nor did he rebuke Peter. No. When Peter called on the Lord, Jesus immediately reached out and lifted him up. And he does the same with us.
God loves us so much, he even knows how many hairs we have on our heads (Luke 12:7). God cares about us. And He will never stop caring.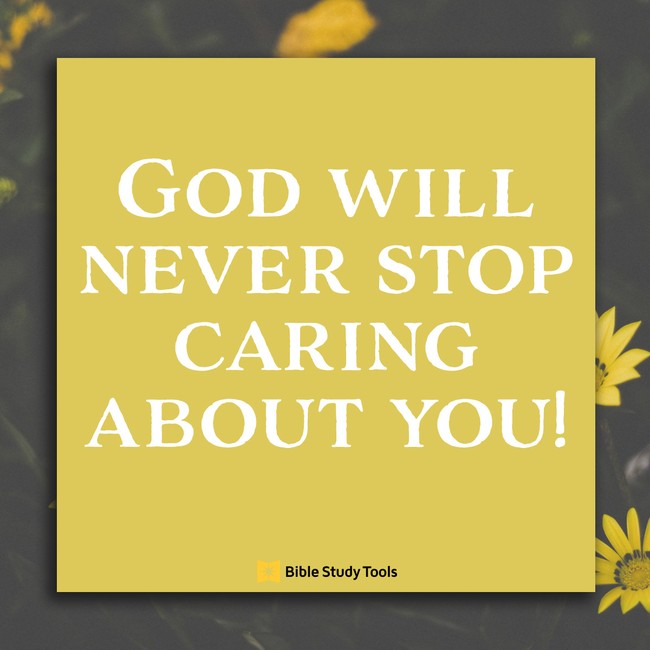 I wonder when it happened, Lord,
this feeling that we are separated.
I know when I first met you,
that I gave you my heart.
And then my Father showed me
that when trials came before me,
I would pull my heart back slightly,
a little more each day.
I didn't want the distance
and knew what I had to do;
I returned my heart to Hime,
and all my love again.
-Anne Peterson
God doesn't want just a part of me. He doesn't just want Half of my Heart, like that Nathan Peterson song. God wants all my heart. This is what Jesus told us (Luke 10:27).
---
Anne Peterson is a regular contributor to Crosswalk. Anne is a poet, lecturer, published author of 16 books, including her latest book, Always There: Finding God's Comfort Through Loss. Anne has also written and published books titled He Whispers: Poetic talks with God. Subscribe to Anne's newsletter on www.annepeterson.com and receive a free eBook by clicking on the tab. Or you can connect with her on Facebook.
Want more of your daily Bible verse? We also have a podcast! This podcast contains different verses from the written devotional you just read, but carries the same commitment to looking more closely at scripture each day. You can find out more by clicking the link below!