God sees you
By Lynette Kittle
"The eyes of the Lord are on the righteous, and his ears are attentive to their cry" -Psalm 34:15
Have you ever felt lost in the crowd, like there were so many people in the world (7.8 billion at last count), or that your life didn't matter to God?
The scriptures paint a very different picture of your value and importance to God. "From heaven the Lord looks down and sees all mankind" (Psalm 33:13).
As Proverbs 15:3 explains, "The eyes of the Lord are everywhere, watching over the wicked and the good."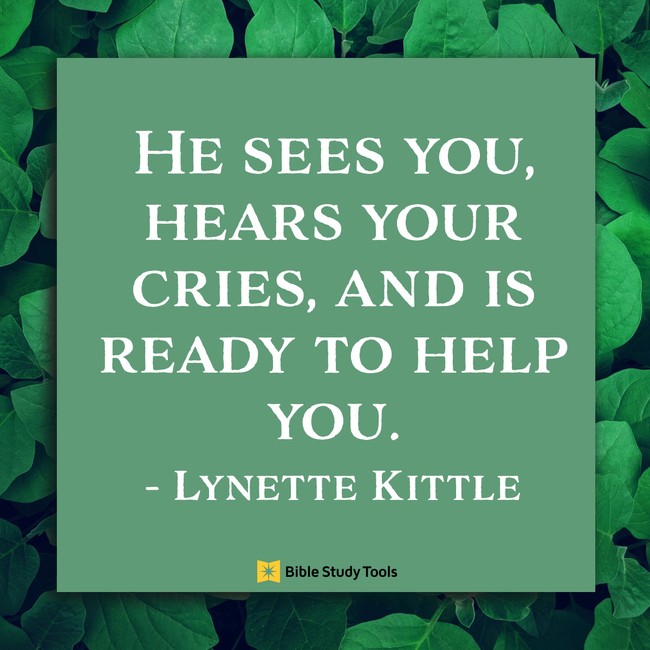 God keeps an eye on everyone. Nothing that happens in the world is out of his sight. As Hebrews 4:13 reminds us, "Nothing in all creation is hidden from the sight of God. All is uncovered and laid bare before the eyes of Him to whom we are accountable.
And neither does God look at you casually. Psalm 11:4 tells us how, "The Lord is in his holy temple; the Lord is on his heavenly throne. He observes everyone on earth; His eyes examine them.
But even more than God watches over the earth, it is the attention he grants to those who love him, to those who belong to him. As Psalm 34:15 points out, God sees you and is attentive to your cries, hears your needs, your sorrows and the desires of your heart. Being attentive means listening to your voice.
As Psalm 102:19,20 describes, "The Lord looked down from his sanctuary on high, from heaven he looked down to the earth, to hear the groans of the prisoners and to release the condemned."
You already have God's attention. His eyes are fixed on you (Psalm 34:15). "The Lord looks down on all men from heaven, to see if there is anyone who understands and seeks God" (Psalm 14:2).
Most exciting is how God seeks to strengthen you. 2 Chronicles 16:9 explains how the eyes of the Lord seek throughout the earth to strengthen those whose hearts are wholly devoted to Him.
He doesn't just watch and observe your ways and habits, He actively seeks to see how, when and where He can help you where you need it most. God is looking for ways to strengthen you and lift you up where you are weak.
Maybe you've found yourself in a situation where you feel so far from God, one where you feel like you've screwed up so much, that you don't think He would ever seek to find you?
But nowhere is too far or so hidden that God cannot see you. Jeremiah 23:24 explains, "'Who can hide in secret places so that I cannot see them?' declares the Lord. 'Do I not fill heaven and earth?'"
In the Old Testament of the Bible, when Hagar, Sarah's servant, conceived Abraham's child, her conception of a child caused her to despise her mistress. In return for Hagar's disdain for her, Sarah treated her harshly. So severely that it caused her to run away from the situation. Yet God found Hagar in her distress, and when he did, it led her to recognize him as the "God who sees me" (Genesis 16:13).
In your deepest and darkest moments when you feel distant from God, even though you have contributed to the situation you live in, He sees you, hears your cries and is ready to help you.
---
Lynette Kittle is married with four daughters. She enjoys writing about faith, marriage, parenting, relationships, and life. Her writing has been published by Focus on the Family, Decision, Today's Christian Woman, iBelieve.com, kirkcameron.com, Ungrind.org, Startmarriageright.com, growthtrac.com, and more. She holds a Masters in Communication from Regent University and is an Associate Producer for Soul Check TV.
Want more of your daily Bible verse? We also have a podcast! This podcast contains different verses from the written devotional you just read, but carries the same commitment to looking more closely at scripture each day. You can find out more by clicking the link below!