Your daily Bible verse and scripture quote picture is here to help you draw closer to your relationship with God through prayer and study during the week of Monday March 2 through Sunday March 8, 2020
What does the Bible teach about love and purpose?
Love often makes a person wonder why. What is life? How did we get here?
For years, scientists and religious historians have fought over evolution against creation and over how Earth and all of humanity came to be.
We have invested millions and millions of dollars in research trying to prove our own origins to ask ourselves over and over again … How did we get here? But why is this our main question?
The Bible is filled with Bible verses and love quotes about passion and purpose.
It is important to understand where we came from and how we ended up here, but the most important question we should ask ourselves is "What is my purpose?" Why am I (or are we) here?
Most of us can answer this question selfishly. "I am here on this earth to be a lawyer" "I am here on this earth to be a mother" "I am here on this earth to be an architect. But can we answer this question as a society?
What is our goal ? Do we simply walk meaninglessly on the planet in cycles of people until the sun is extinguished in a white flame dragging the earth in its wake? What makes life worth living? What are we supposed to accomplish?
As you read and interpret every Bible verse about love, life, and purpose, we learn that God wants us "Above all else, [to] love yourself deeply. "- 1 Peter 4: 8 NIV
At the heart of humanity you will find love. Ultimately, isn't that what we're all looking for? We are looking for someone to love, and someone to love us back.
We are looking to find a career that we love, something that gives us purpose. We seek to create a family that we can learn to love and be loved.
We all want to find that thing that changes us. No matter what embodiment love comes to you, once it touches you, you are forever altered.
The first time you truly fall in love, whether it's with your career, with a partner, with your child, you can finally open your eyes and see things clearly.
Your purpose on earth is to love others. Now you finally know who you are. You finally know why you are here.
Here is an inspiring Bible quote to study and illustrated verse image, for each day of the week, Monday March 2 through Sunday March 8, 2020.
Daily Bible Verse for Monday, March 2, 2020
It is important to know how we got there. But it is more important to know why.
"Do not owe anything to anyone except to love one another, for he who loves others has fulfilled the law. "- Romans 13: 8
Daily Bible Verse for Tuesday March 3, 2020
No matter what mistakes you make, if you act with love, you will be fine. "For this very reason, make every effort to add kindness to your faith; and to kindness, knowledge; and to knowledge, self-control; and in self-control, perseverance; and to perseverance, piety; and to piety, mutual affection; and to mutual affection, love. – 2 Peter 1: 5-7
Daily Bible Verse for Wednesday March 4, 2020
Honest love is the only love. "Love must be sincere. Hate what is wrong; hold on to what is good. – Romans 12: 9
Daily Bible Verse for Thursday, March 5, 2020
Everything you do should be based on love. "I pray that with his glorious riches he might strengthen you with power through his Spirit in your inner being, that Christ may dwell in your hearts by faith. And I pray that you will be rooted and established in love. – Ephesians 3: 16-17
Daily Bible Verse for Friday March 6, 2020
To love someone is to align their needs with yours.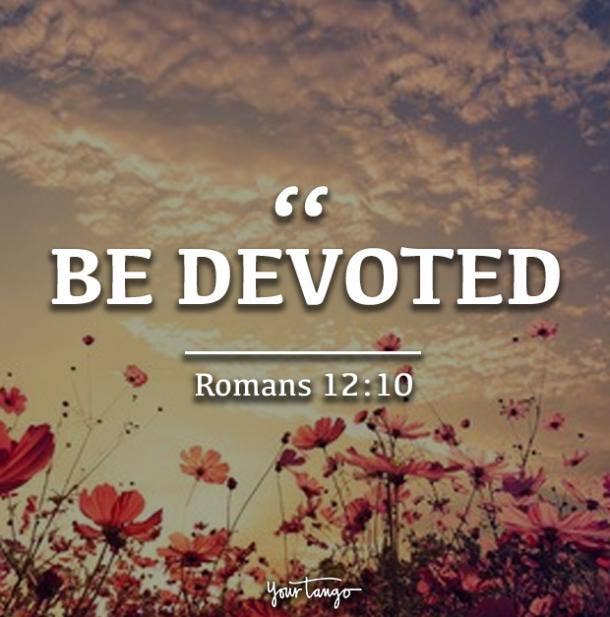 Related stories from YourTango:
"Be devoted to one another in love. Honor one another above your own. – Romans 12:10
Daily Bible Verse for Saturday March 7, 2020
Surrender to the one you love. "Husbands, love your wives, just as Christ loved the church and gave himself up for her to sanctify her, washing her by washing with water through the word. – Ephesians 5: 25-26
Daily Bible Verse for Sunday March 8, 2020
May you feel the love of the Lord. "May the Lord direct your hearts to the love of God and the perseverance of Christ. – 2 Thessalonians 3: 5
More for you on YourTango:
Kaitlin Kaiser is a writer who covers the Bible, spirituality, and relationship topics.