Your daily picture of bible verses and scripture quotes is here to help you get closer to your relationship with God through prayer and study during the week of February 24 – March 1, 2020
What does the Bible teach about love?
When we talk about love, we usually refer to romantic love or family love. But love is an invitation to understand oneself through the eyes of God.
We talk about how we show love and receive love and how we interact with and care for the people in our lives. When we talk about love, sometimes we don't think of it in terms of pursuing our passion.
When we are children, we dream of one day becoming a professional athlete, or a famous musician, or a movie star. We dress up and pretend we've grown up and go to work every day at a job we love.
Then, as we get older, we begin to know the world and try to mold ourselves to fit in. We see our dreams becoming more realistic.
Our passions become hobbies, and our professions become essential. We clock in and out and count the hours until we get home.
Every day when you read a Bible verse or quote, you fill your week with love and passion.
How much easier would our tasks be if we could attack them with passion? If we could show up to work every day and strive to be the best. If we tell ourselves that today I'm going to be the best bartender I know.
Today I'm going to be the happiest office manager I can be. Today I will be the safest driver on the road.
When you start to take pride in your work, you put love into action. You decide to put love into your job, even if you don't like your job. When love is reflected in your actions, it also reflects who you are as a person.
Putting love into your work is a way of loving yourself. Being proud of what you do is a form of self-love and I think it's something we all deserve.
Here is an inspirational Bible quote to study and an illustrated verse image, for each day of the week, February 24 through March 1, 2020.
Daily Bible Verse of the Day for Monday, February 24, 2020
The only thing you owe the world is love.
"And above all these virtues put on love, which binds them all together in perfect unity." – Colossians 3:14, NIV
Daily Bible Verse of the Day for Tuesday, February 25, 2020
Love is putting others first. "Love is patient, love is kind." – 1 Corinthians 13:4-5
Daily Bible Verse of the Day for Wednesday, February 26, 2020
Love is the only thing that means anything. "If I have faith that can move mountains, but I don't have love, I am nothing." – 1 Corinthians 13:2
Daily Bible Verse of the Day for Thursday, February 27, 2020
Put love in everything you do. "Do everything with love." – 1 Corinthians 16:14
Daily Bible Verse of the Day for Friday, February 28, 2020
True love does not hide the truth.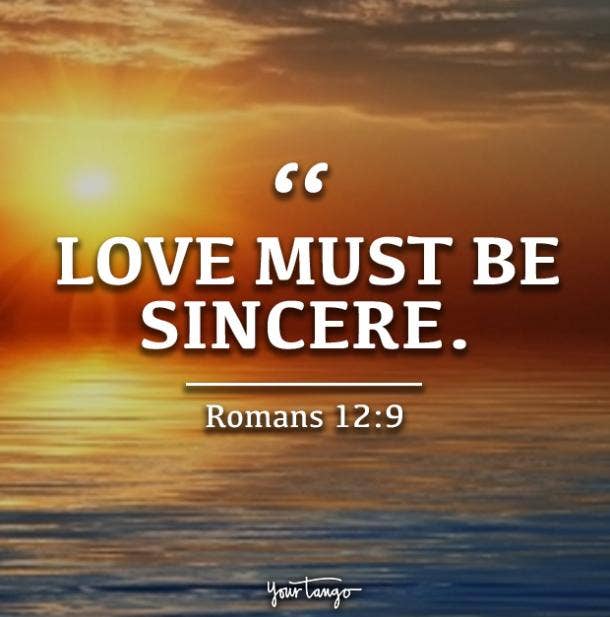 Related stories from YourTango:
"Let the love be genuine. Abhor what is evil; hold fast what is good." – Romans 12:9, ESV
Daily Bible Verse of the Day for Saturday February 29, 2020
With love comes trust. "Show me the path I must follow, for it is to you that I entrust my life." —Psalm 143:8
Daily Bible Verse of the Day for Sunday March 1, 2020
Take love and loyalty with you. "May love and fidelity never leave you. – Proverbs 3:3-4​
More for you on YourTango:
Kaitlin Kaiser is a writer who covers the Bible, astrology, pop culture, and relationship topics.